Sometimes homeschooling means stepping out of your comfort zone because you're faced with challenges that you never really anticipated when you ventured out on the journey of educating your children at home. 
I've been homeschooling for 7 years and my oldest kids (now in college) were in public school through 5-7th grade, so teaching reading was never on my radar.
Now that my youngest is 7 though, I've had to travel down that road of home education from the very start and of course, because life is ironic like that, this child has been more mathematically inclined over being excited about picking up a book.
Luckily that has changed as he's matured and he is now starting to naturally gravitate toward reading in an organic and child-led way.
Here's my approach as to how I became comfortable with this child-directed style and the resources I've used as a 'back-up' if you  will.
How Waldorf Education Approaches Reading 
The Waldorf style of learning places zero emphasis on reading in the younger years.  
'From birth to age seven, the focus is on the spoken word.
The children hear stories – nursery rhymes, nature stories, folktales and fairy tales. Teachers are careful to use the original language of fairy tales without "dumbing them down" or simplifying the language. The teacher is careful to use clear speech and to enunciate. This will help children later when it comes time to learn to write and spell.'                                                                 – Sarah Baldwin
Read the full blog post from Sarah Baldwin from Bella Luna Toys.
this post contains affiliate links
Resources for Teaching Reading in Your Homeschool
Over the last few years, I've purchased various resources to facilitate teaching reading to my son.  Because I've always had the Waldorf mindset though, I also knew that if none of these worked, I could always fall back on the knowledge that reading will happen when my child is ready. 
The following list of resources are ones that I've personally purchased for our homeschool:
All About Reading – click image below to visit site: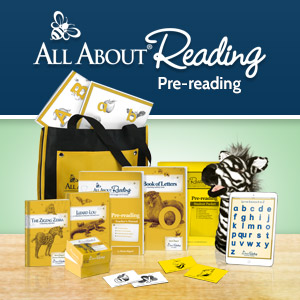 5 Tips to Encourage Reluctant Readers
Wait! Hold out and try not to purchase ALL the curriculum, especially if you're just starting out.  Until you're able gauge your childs' learning style it's best to use free resources and library visits facilitate learning to read.

Never Compare! 

Each individual child has their own strengths and weaknesses and comparing where your child is to other children is never a good idea.  The beauty of homeschooling is that you can tailor learning to your child's individual learning style and accommodation their needs.  Don't rush it.

Use Apps!  Our favorite app isn't even related to learning or reading but it's helped my son decode words on his own simply by playing the game.  Little Alchemy can be played on a desktop or by using the app.

Read books that correlate with favorite Movies 

We've had luck reading the Step in to Reading books for Moana and Coco, consider finding similar titles based on your child's favorite movies.

Watch TV! 

Consider turning on the TV without subtitles and having your child read the subtitles with sound off to follow along. They're watching TV, but also, reading! 
Watch my YouTube Video where I talk about these tips a little more in depth:
Are you working with a struggling reader in your homeschool, do you have tips to share to help others? Comment below!
Please follow and like us: